Building Profits Through People Promotion and Passion
BUILDING PROFITS THROUGH PEOPLE PROMOTION AND PASSION
This Is Much More Than Our Tagline…
It Is Our True Operating Philosophy… Believing Profits Follow When You Do All The Right Things. But First You Have To Get Noticed In a Crowded And Ever-Changing Marketplace.
T he Guld Resource Group is a nationally recognized consultancy specializing in the soft skills of business…increasing sales performance, marketing exposure, employee productivity (leadership) and creating a world-class service and educational experience for System 21© television and radio stations and as well as local business clients across the country. 
With over 500 partner television and radio groups, The Guld Resource Group and System 21© have helped thousands of local companies create great local brands, while also becoming more efficient with their media investment and more effective with their advertising results (ROI).  And as a result, System 21© media properties incremental revenue grows as well. 
Michael Guld
Michael Guld is an author, speaker, entrepreneur, and radio commentator.  In addition to being a senior partner in System 21©, a guaranteed revenue development solution for the broadcast industry, Michael was creator and host of "Talking Business with Michael Guld," airing in Morning Edition on Central Virginia's Public Radio.  He has spoken at national and state broadcast associations, as well as corporate and non-profit industries and organizational events in 46 states.
Guld has lived the "radio dream," building a radio group from the ground up.  Guld's tagline for his consulting company is "Building Profits Through People, Promotion and Passion" reflecting his belief that profits follow when you do the "right things".   His mission is to prove that "nice guys can finish first."
System 21©
System 21© is a sales and marketing development program that guarantees a minimum of $200,000 to $300,000 (depending on the program) in new direct revenue of new revenue or its free.  The program provides a step-by-step solution from the diagnostic questions to the  marketing strategy to the development of more creative solutions…and better client results leads to more satisfied customers.  Every media rep has been taught to ask questions, yet few have ever been trained what to do with the answers.  And as opposed to a "one time in-and-out sales event" designed to help reps make their months…System 21© is an "integrated marketing solution" providing the knowledge, tools and training for media reps to transform their career!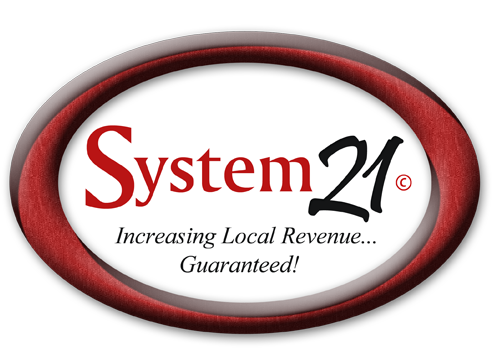 The Million Dollar Media Rep
The Million Dollar Media Rep is an easy to read and easy to reference "how to" book that will help new media reps get started, experienced media reps be more successful and students in the academic world learn more about the business side of the broadcasting industry.  It combines great sales strategies, advanced marketing tools and personal development tips to help every media rep reach their full potential.
Professional Speaking
What is it about some speakers and trainers that make "lasting impressions?"  It is because they provide not only memorable experiences, but also motivate changes in behavior.  As a successful entrepreneur, consultant, speaker and author, Michael Guld has much to teach.  His style is relatable; his topics are relevant; his message is inspirational; and his presentation is humorous and entertaining.
Michael Guld Speaking Demo
Some of our clients
 Alabama Broadcasters Association * Alaska Broadcast Association * American Cancer Society * American Council of Engineering Companies * Arkansas Broadcasters Association * Backyard Broadcasting * Bahakel Communications * Better Business Bureau of Central Virginia * Block Communications * Canadian Association of Broadcasters * Chesterfield Town Center * Colorado Broadcasters Association * Connecticut Broadcasters Association * CW Richmond * Disney/ABC Television Group * Granite Broadcasting * Gray Television * Haley Toyota * Hawaii Association of Broadcasters * Hearst Broadcasting *Hospitality Sales & Marketing Association International * Illinois Broadcasters Association * Iowa Broadcasters Association * Kansas Association of Broadcasters * Keiter, Stephens, Hurst, Gary & Shreaves Accounting Firm * Kentucky Broadcasters Association * MainLine Broadcasting * Maryland/DC/Delaware Broadcasters Association * March of Dimes * Max Media * Media General * Meredith Corporation* Michigan Association of Broadcasters * Midas Automotive Service Experts (ASE) * Midas of Hampton Rhoads * Midas of Richmond * Midwest Communications * Mid-West Family Broadcast Group* Mississippi Association of Broadcasters * Missouri Broadcast Association * Montana Broadcasters Association * Morris Multimedia * National Association of Broadcasters * Nebraska Broadcasters Association * North Carolina Association of Broadcasters * National Cleaning Products Association * Nexstar Broadcasting Group * North Dakota Broadcasters Association * Ohio Association of Broadcasters * Oklahoma Association of Broadcasters * Ontario Independent Radio Group  * Oregon Association of Broadcasters * Precision Tune * Radio Association of Broadcasters  * Raycom Media * Saxon Shoes * Smiley's Glass * Society of Government Meeting Professionals * South Carolina Broadcasters Association * South Dakota Broadcasters Association * State of Virginia * The Fredericksburg Free-Lance Star * Titan Broadcasting * Television Bureau of Advertising (TVB) * Tennessee Association of Broadcasters * Texas Association of Broadcasters  * The Greater Richmond Retail Merchants Association * Titleworks * Tribune Company * Trustmor Mortgage * Vermont Association of Broadcasters * Virginia Association of Broadcasters * Virginia Association of Home Care and Hospice * Virginia Auto Dealers Association * Virginia Blood Services * Virginia Cable Telecommunications Association * Virginia Community College System  * Virginia Society of Association Executives * Washington State Association of Broadcasters * Wisconsin Broadcasters Association * Woods Communications * Wyoming Association of Broadcasters * Young Broadcasting